Can I work on visit or tourist visa in Dubai or other states of UAE?
October 17, 2016 / 796 / Category : Faqs
It is illegal to work on a visa other than a valid employment visa in Dubai. However, you may come on a visit or tourist visa and actively search for jobs in Dubai. Under recent legislation pertaining to employment visas, successful candidates who are hired by Dubai employers are required to exit the UAE pending release of their Employment Visas.Clearly, any employer asking you to start work immediately or without a valid employment visa is not in compliance with legal requirements. If you choose to begin work without a valid employment visa, you:
Give up you chances of using the Labour Code or having the Labour Ministry to mediate your case in the event of a dispute with your employer.
Run the risk of being caught, fined and deported. You will also be blacklisted such that you may never return on an employment visa to the UAE. In many cases, illegal laborers spend jail time prior to deportation and their retina scans are kept active to effect the blacklisting.
Popular
Century Financial Brokers
Location: Century Financial Brokers LLC.7th Floor, Office 704/708,Al Khaleej Shopping Center,Al Mankhool Road,Bur Dubai, Dubai, UAE Telephone: +971 (4) 356 2800 Email: +971 (4) 351 6308 Website: http://www.centurybrokers.com Fax: info@centurybroker.com At Century Financial Brokers, our relentless pursuit of market opportunity separates us from the pack and binds us in a common purpo...
11 Job Sites with Listings of Jobs in Dubai
Job Site Name Dubai Jobs Listings Bayt Job Listings DubaiClassified.com Job Listings Dubizzle Job Listings Emirates Ads Job Listings EmiratesVillage.com Job Listings Expatriates.com Job Listings GettyDubai.com Job Listings Gulf News Job Listings Jobs123.com Job Listings Totaldubai.com Job Listings TotalJobs Job ...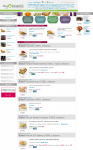 Online Lebanon Arabic Food
This is a specialty online gourmet store that offers Middle Eastern and Lebanese food items and ingredients. All the food products are 100% natural Lebanese food products. You can find everything from Arabic sweets, coffee, baked items, herbs, nuts and much more here. Operating from Beirut, Lebanon since November 2000, BuyLebanese.com is the world's first online gourmet store specialized in Leban...
Online Shopping and more deals
Souq.com sells a wide quality of designer stylish wear, along with hi-tech mobiles, computers, art, crafts and collectibles, paintings, games and even more. Souq.com allows for free returns and accepts Cash On Delivery (COD) payments. Top 3 Places To Go Shopping in Dubai UAE – Expats Guide 14 Most Popular Online Stores in Dubai 2016 United Arab Emirates