Chairman of Al Habtoor Group Requests for Lifting Of Ban on WhatsApp and Skype Calls:
September 19, 2018 / 185 / Category : Tech
For a decent amount of time, video calls have been banned in UAE for few reasons. WhatsApp, Skype and other voice over internet protocol (voip) has been banned and ushered down but recently, a high-profile man in UAE have spoken against it through a video posted in twitter.
The chairman of the Al Habtoor Group has called UAE's telecommunication companies and raised this issue in front of them, as per reported by the Khaleej Times.
Business Leader Calls for Lifting Ban in on VIOP:
This businessman raised this issue through a video and said the following points, he mentioned that every nation is free to use such facilities and are enjoying it wholeheartedly while UAE is left behind in these things. He stressed upon the importance of communication and urged the telecommunication companies to look into this issue and requested them to solve it.
Key to becoming number 1:
He pulled the strings on the irony that UAE has always been on top of everything but when it comes to communication, UAE is left behind. In order to be number one in everyone, UAE needs to be successful in communication too. That's how they can progress in the future.
Apple and android companies have been seen to make requests with voip to let the facetime and Skype be run freely in UAE but no such fruitful results are seen.
Just like leader of Al Habtoor spoke up, we can also hope that others would speak up too and help remove the ban. But even if there is no ban, we must learn to use social media responsibly.
Popular
Dubai Population by Nationalities
There is ever increasing population in the world currently. It is estimated that by 2050 the population will be doubled on the rate at which it is increasing. There are more than 150 nations in the world and every one of them is not same in the area so there are different number of people in each country. This means that every country has its own capacity for accommodation of people. But...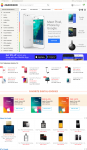 JadoPado Dubai UAE Marketplace
JadoPado is an auction sale marketplace where one can buy and sell new, used and renovate items Stores are handled by individual sellers, including their product reach, order management, and fulfillment. JadoPado work is to make sure everything looks great. Top 3 Places To Go Shopping in Dubai UAE – Expats Guide 14 Most Popular Online Stores in Dubai 2016 United Arab Emirates
List of GCC countries, Gulf countries
List of six Arab GCC (or AGCC) countries (Gulf countries), citizen nationalities, nations, or member states is Bahrain, Kuwait, Oman, Qatar, Saudi Arabia, UAE. Yemen and Iran are Muslim countries but not GCC members. Population statistics, foreign expat resident percentages, currency, land area, other figures and data. Bahrain - or Kingdom of Bahrain Kuwait Oman - or Sultanate of Oman...
50 Interesting Facts About Dubai
Dubai is one of the most progressive and revolutionized cities in the world while the United Kingdom is already considered the pioneer of Industrial Revolution. Changing the location is strenuous task and those Englishmen who are moving from the Queen's land to land of desserts should know that One should have complete dedication towards this as the conditions would be different. Yes, it...
10 Beautiful Places of Saudi Arabia You Must Visit
One of most important symbols of the Islamic religion of Saudi Arabia. This country known for its fascinating valleys, Red Sea beaches and striking mountains. This beautiful thirteen provinces, country have elegant places to visit at least once in a lifetime. For westerners, Saudi Arabia signifies the heart of the middle East, including rich culture, oil, Islam, Arabian night and terrorism. Howeve...