Dubai vs Abu Dhabi
April 9, 2017 / 879 / Category : Uae
In this modern era of progressing world we are surrounded by new and distinctive quality of things. These, when compared to the past gives us no resemblance at all. Today almost every place on Earth has an artificial beauty that takes its glamour to a higher level. Buildings higher than ever, roads broader than our imagination. Our world is full of the stuff that makes ones thinking stop for a while. Every country on this planet is equipped with the natural beauty but what makes the place different from other ones is its man made structure. There are many cities on this planet that pleases the eyes. The buildings, carpeted roads, the sky scrapers etc. Cities like Dubai, London, New York are the examples of the modern, man made intelligence. The map and spacing of the cities may be different but we are concerned with the quality of what it looks like, the thing that make it pleasant to eyes. Cities may be different in some aspects. Comparing cities that are in two different regions on the Earth will give some major distinctive features but what will be seen when comparing the cities of same country, same culture and environment?. Lets talk about Dubai and Abu Dhabi, The cities of major trading base of middle east Unites Arab Emirates. The cities are same in there climatic aspects but different in others. Both of these have there own way in which they are viewed and being liked. First thing that is being seen whenever a person visits any place is the infrastructure of that particular place. As it is said that the first impression is last impression, the infrastructure is the first impression of a city. Compared to Abu Dhabi, Dubai is having a top notch infrastructure with buildings that are among highest building the world. Burj-al-Khalifa is the tallest building in the world, other includes Burj al Arab which is structured on a sandy surface near beach side on the sea this is a mastermind and shows the perfect intelligence used by the man these two and other adds to the beauty in such a way that Dubai is started to be considered as the European city or the American one where these type of builds are common. Then there comes a small town which is too built on a sandy floor having a shape of palm tree known as Palm island there are hotels and flats providing with the best. But this doesn't mean that Abu Dhabi is not enough good to be visited. There are many buildings for which Abu Dhabi is famous these are
The Shaikh Zaid Mosque
The Ferrari World
YAS Island
The Emirates Palace
These are the main places to be visited at first. The Sheikh Zaid mosque is the mosque of pure white marble with its mesmerizing domes. The inside of the mosque is also enough beautiful that you may lean there forever. One of the top most adorable car the Ferrari has its manufacturing unit here in Abu Dhabi it is a vast area that is only limited to the works of Ferrari manufacturing. Then there comes the YAS island its a man made having a large fountain pan and the surrounded by lush green grass. Last but not the least the Emirates palace, it has a perfect look of what we can call a place for the royals. Other than the buildings and structure of these places, these two cities holds immense importance for there role in business. According to business point of view these two are not behind the cities where a you will find a successful business to setup for. Dubai is place of many people interested in making money and no doubt Dubai will give them a fair chance for this plan. You can setup many types, almost all types of businesses in this place either its restaurant or a small scale business. Compared to this Abu Dhabi is also a famous hub for the businessmen, people likes to visit Dubai often than to Abu Dhabi and the business are interested more in Dubai as a platform for there business setup as Dubai provides more facilities and opportunities. Now there is the most valuable of all 'the attraction of a place'. Travel and Tourism industry is progressing very much and cities like Dubai and Abu Dhabi are in the list of most visited ones. As mentioned earlier that Dubai is preferred to Abu Dhabi. This is because in past recent years Dubai has emerged as a source of income to UAE, people find it useful for trading purposes as it is having the deepest seaport in middle east after Gwadar. It serves whole of the middle east. Whereas Abu Dhabi is only famous for its artificial beauty it cannot serve the like Dubai does. So Dubai wins? No, probably not. Dubai is not good in every aspect in some cases Abu Dhabi is more preferred as in the case of prices of valuables and rents of the flats and hotel rooms. Work and job opportunities are more in Dubai then Abu Dhabi but you cannot live in Dubai until you are a billionaire. It was estimated that rent for booking a room in Burj al Arab almost $ 28,000 for a day which is is far most expensive than to book a room in Abu Dhabi.
Popular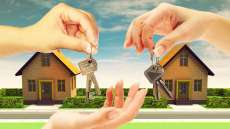 Top 5 Areas to Buy Property in Dubai
Dubai is that the world's most fun property market, giving a large vary of investment sorts and dynamic perpetually because the master plan unfolds. the subsequent may be a list of the simplest investment areas of the instant. 1. The Springs The Springs is found within the Emirates Living district of port and offers a 'villa-living' lifestyle that is particularly well-liked among expats. The...
Desert Safari and Dune Bashing Experience in Dubai and Abu Dhabi
Abu Dhabi is the capital of the UAE and remains true to its traditional charm. With some marvellous attractions and old traditions, the city witnesses a huge footfall of tourists every year. From the Sheik Zayed Mosque to the Presidential Palace, there are many things to explore. During the desert safari, one can discover the true charm of the desert through camping and adventure. The Desert Safa...
11 Job Sites with Listings of Jobs in Dubai
Job Site Name Dubai Jobs Listings Bayt Job Listings DubaiClassified.com Job Listings Dubizzle Job Listings Emirates Ads Job Listings EmiratesVillage.com Job Listings Expatriates.com Job Listings GettyDubai.com Job Listings Gulf News Job Listings Jobs123.com Job Listings Totaldubai.com Job Listings TotalJobs Job ...
Dash cam hardwiring kit
Anyone knows where in Dubai I can get a hardwiring kit for dashcam? Google doesn't help and the only ones I see are on desertcart. Thanks in advance.
Chapter III: Employment Contracts, Records and Wages - UAE Labor Law
Article 42 An apprenticeship contract is one whereby a firm owner undertakes to provide full vocational training consistent with the professional standards to another person who has completed at least 12 years of age, who, in turn, undertakes to work for the employer during the training period subject to such terms and for such period as mutually agreed. The apprenticeship contract shall be in w...