Things To Keep In Mind While Looking For A Job In Dubai
September 13, 2018 / 412 / Category : Jobs
1. Search for Vacancies in Gulf
As with time, the job market is getting very competitive. Check all related job vacancies, as well as any related websites for the company's complete history. This may impress potential employers.
2. Reach Out to Employers Through Dedicated Job Portals
Such as Dubai Yellow Pages Research about the Job Market is very necessary. Use the Internet for all prospective employers in the Dubai Yellow Pages. Keep searching sites for up to the minute information concerning which companies are offering vacancies and what skills related to your sector are currently in high demand. The research process will help you to discover the exact vacancy you desire in positions ranging from junior level to senior management positions
3. Use the Internet to Its Full Potential
Creating an online CV along with a cover letter and uploading it a on desired job sites is an important step. Nowadays, almost the candidates are assessed online via employee profiles. Update your CV often, focusing on proper key words to grab employer's attention.
4. lt to build connections
Visit different expos and job fairs happening around the city. Interact with new people and make connections that will be beneficial in your job search.
5. Job Consultants are Always an Option
A number of reputable job consultants operate in Dubai. The vast number of agencies exist in Dubai to recommend the perfect job for you.
6. Remain on Your Toes
Always Make and keep a job search schedule. Make sure you are continually updated about jobs in your area. Roam the city and try to meet few people in the companies that interest you. This will make it easier for you while you figure out how to get a job in Dubai.
7. Be Focussed and Patient
Focus is a very important factor; never lose it. It doesn't matter you are in Dubai or Dublin. You need to do is focus on your job search with extreme concentration. Sooner or later, with hard work and patience, you will get the job that you desire. Finding the best employment overseas takes a lot of research and effort. The old and new forms of media still present ample opportunities for employment seekers looking from their home country. Some destinations might restrict such acts and for the job seekers benefit, we do not recommend this approach.
Popular
Can I work on visit or tourist visa in Dubai or other states of UAE?
It is illegal to work on a visa other than a valid employment visa in Dubai. However, you may come on a visit or tourist visa and actively search for jobs in Dubai. Under recent legislation pertaining to employment visas, successful candidates who are hired by Dubai employers are required to exit the UAE pending release of their Employment Visas. Clearly, any employer asking you to start work i...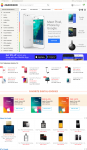 JadoPado Dubai UAE Marketplace
JadoPado is an auction sale marketplace where one can buy and sell new, used and renovate items Stores are handled by individual sellers, including their product reach, order management, and fulfillment. JadoPado work is to make sure everything looks great. Top 3 Places To Go Shopping in Dubai UAE – Expats Guide 14 Most Popular Online Stores in Dubai 2016 United Arab Emirates
Keeping Cream Leather Sofas Clean
Anything white or cream can be harder to keep clean. Garments, sacks, or bits of furniture in these shades are more inclined to getting filthy and can request a considerable measure of time and exertion for support. Dull hued calfskin coaches, for example, are most likely less demanding to keep clean than cream cowhide couches. Be that as it may, there are some approaches to help you take care of ...
Crazy Deals
Initially launched with the objective of providing a comprehensive array of consumer electronic products, Crazy Deals has expanded to offer buyers a much larger range of products. Featuring the 'Craze of the Day', shoppers are treated to a variety of deals at largely discounted prices on a daily basis. Crazy Deals promises its shoppers authentic products delivered promptly to their door st...
Factors to Consider When Buying a Home
A selection typically needs to be created between shopping for and dealings property. To assist you to create associate familiar call, you wish to see the time you look for to remain in this space and also the monthly monetary obligations you'll afford. If you're reaching to sleep in a selected space for quite five years, it makes plenty of sense to shop for a home. On the opposite han...