Ways To Find Jobs
September 13, 2018 / 512 / Category : Jobs
Finding Jobs through Newspapers
Although the economic setback has prompted many companies to cut jobs during the global recession, Dubai's job market has been improving in the last few months with companies making up for lost capital. If you go through the newspapers in Dubai such as Gulf News and The National, there are plenty of job vacancies available. Some post dummy vacancies in order to collect high profile candidates to give to prospective employers. Some employment seekers only apply to job advertisements posted by an employer which is a big mistake. There are numerous candidates for a certain vacancy which makes you even fortunate if your resume has been viewed.
Finding Jobs through the Internet
Aside from looking through job listings found in newspapers, why not browse the internet for the latest jobs? There are also numerous websites in Dubai dedicated to employment seekers. We recommend you look for job advertisements directly posted by employers rather than those from recruitment agencies although some international and locally-based recruitment companies do offer excellent services. You can directly contact the Human Resources Department of major companies in your field of interest. Always remember that most companies do not advertise all employment vacancies. If you are lucky, they can create a position for you depending on your skills and experience.
Other Ways of Finding a Job Overseas
There are other methods that you can use when looking for a job overseas. The best method would be through your connections. This strategy applies to job seekers located in most countries worldwide. If you know someone who is already working for a company, he or she can approach the HR person and hand over your CV, while in the meantime, providing you with an excellent reference. If you do not have global connections, all is not lost. Recruitment companies can sometimes be very helpful. We recommend you do your homework before making a final decision as to which recruitment company you decide to register with. Dubai has some excellent and internationally renowned recruitment agencies but you may find those that are well advertised on the internet but are a waste of money and provide an extremely unprofessional and slow service. There are licensed recruitment agencies in Dubai such as Kershaw Leonard, BAC Middle East, and Clarendon Parker which will be able to help you find a suitable job in Dubai. The majority of recruitment agencies charge a small fee to be able to access job postings or post your CV live.
Popular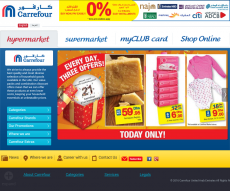 Carrefour UAE
Carrefour is the second-largest retail merchant in the world. Given its buying power, Carrefour is able to buy in a majority and keep prices low for its customers. More than 2 billion people shop the 100,000 + products that are always kept on stock on Carrefour globally.
Century Financial Brokers
Location: Century Financial Brokers LLC.7th Floor, Office 704/708,Al Khaleej Shopping Center,Al Mankhool Road,Bur Dubai, Dubai, UAE Telephone: +971 (4) 356 2800 Email: +971 (4) 351 6308 Website: http://www.centurybrokers.com Fax: info@centurybroker.com At Century Financial Brokers, our relentless pursuit of market opportunity separates us from the pack and binds us in a common purpo...
11 Job Sites with Listings of Jobs in Dubai
Job Site Name Dubai Jobs Listings Bayt Job Listings DubaiClassified.com Job Listings Dubizzle Job Listings Emirates Ads Job Listings EmiratesVillage.com Job Listings Expatriates.com Job Listings GettyDubai.com Job Listings Gulf News Job Listings Jobs123.com Job Listings Totaldubai.com Job Listings TotalJobs Job ...
Can I work on visit or tourist visa in Dubai or other states of UAE?
It is illegal to work on a visa other than a valid employment visa in Dubai. However, you may come on a visit or tourist visa and actively search for jobs in Dubai. Under recent legislation pertaining to employment visas, successful candidates who are hired by Dubai employers are required to exit the UAE pending release of their Employment Visas. Clearly, any employer asking you to start work i...
Various Types of Cleaning Services?
As the world gets busier with every day, household cleaning obligations typically turn into an overwhelming employment and as often as possible get ignored. The foundation of cleaning organizations has seen to it that this weight has been backed off shoulders of individuals and establishments. Preceding booking cleaning administrations, it is fitting to recognize what you require with regards to c...