How to Apply for Dubai Visa without being Rejected?
November 17, 2016 / 893 / Category : Dubai Guide
Dubai is a city of luxury, elegance and opulence. While the city has the most modern and architecturally marvellous buildings and structures, it has preserved its traditions, culture and the old world charm. Apart from going sightseeing, it is also the perfect place for shopping and trying out adventure sports. Whatever might be your interest, Dubai would definitely surprise and delight you. It is the perfect location for a holiday with your friends and family. However, before you leave for your vacation to Dubai, you need to apply for your visa.While there are several countries which have the privilege of getting a visa on arrival in Dubai or UAE, there are many others that have to apply for the visa several weeks before their date of departure. Although getting a Dubai visa, especially for tourism, is not very difficult, there are times when your visa may get rejected. The UAE consulate may not always present you with reasons for rejecting your visa. However, there are some little things that you should follow to apply for Dubai visa without getting rejected. Let us take a look at how to apply for Dubai visa without being rejected.
Valid Passport:
This is probably the most important criteria to get a visa to visit any foreign country. Make sure that your passport has not crossed the expiry date. Apart from this, even if your passport expires in less than 6 months, you will not be able to travel to Dubai. Although the maximum visa limit is 60 days, you need more than 6 months' validity to your passport to get a visa to Dubai.
Previous Visa Cancellation:
Visa application can get cancelled if you have a previous visa on your name. If you have ever applied for a visa for UAE but have not able to travel during the allotted period of time, your current visa application would not be approved. In such case, you have to get the previous visa cancelled before you apply for a new one. This stands true even if you have a work visa on your name but did not enter Dubai. You have to contact the UAE immigration consulate for clearing off the employee visa. Otherwise, you would have to wait for 6 months before you apply for a new visa. Even the existing resident visas of ex-residents should be cancelled before they apply for a fresh visa to Dubai.
Age Restriction:
People of all ages, even a month old baby, has to have a visa to go to Dubai or UAE. In other words, people of any age can get a visa if all of his/her papers are in correct order. However, in case of women or girls under the age of 25, there are some restrictions. UAE visa may not be granted to women under the age of 25 if they are travelling alone. Hence, if you are a woman and are less than 25, make sure that you are accompanied by at least one of your parents or maybe your relative when travelling to Dubai.
No Errors:
Many of the Dubai visa applications are rejected due to errors while filling the application form. Even a small spelling mistake of your name or typos of your birth date can cause the UAE consulate to reject your visa outright. So you have to be extremely careful while filling your details in the visa application form. Right from your name and date of birth to your passport number and date of expiry, everything should be in perfect order. Only then your dream to fly to Dubai can come true.
Clear Passport Scan:
As mentioned earlier, the passport is an important document when it comes to visa application. As the UAE visa process happens online (even the visa is issued online), all the documents have to be sent via email. This includes a scanned copy of your passport. You need to be careful here as the scanned passport should be 100% clear. In other words, all your details should be clearly available. You have to ensure that you do not attach a blurred scanned copy of your passport with your visa application form if you want to avoid rejection.It is best to go through a licensed travel agent or agency for your Dubai visa application. Such companies know all about the visa application process and the things needed to make sure that the visa does not get rejected. However, even if you have taken care of the above things, your visa may get rejected for things like criminal record, handwritten passport, unskilled profession, similar identity, etc. The immigrant officials are not under any oath to reveal the reasons of rejecting a visa. If such a thing happens, you cannot demand back the visa processing fee. You have to pay the full amount even if your Dubai or UAE visa gets rejected.
Popular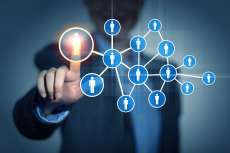 Hiring a Facilities Management Company
The facilities management line of labor aims to require care of everything from the upkeep of an ad building to security, from procurement and contract management to health and safety yet as maintaining the communications infrastructure amongst a variety of alternative aspects. A lot of organizations with differing size and specialty need their facilities befittingly maintained. These businesse...
Martyr's Day 2016
Martyr's Day will be observed every year on 30 November in the United Arab Emirates. Year Date Day Holiday 2016 30 Nov Wed Martyr's Day It is a time of remembrance for those who have sacrificed their lives in the service of their country. Schools will close and both government and private-sector workers will have the day as a paid day off. UAE National...
8 Best Places to watch New Year Fireworks in Dubai
One of the most popular new year destination around the world, Dubai is visited by millions during the new years and Christmas. And no matter how long is your stay in Dubai, you wouldn't want to miss the 31st December night fireworks show of the city. After all, it is one of the best firework shows in the world. To watch the best of the firework shows you need not be invited to a private part...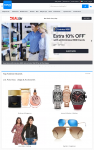 Online Shopping and more deals
Souq.com sells a wide quality of designer stylish wear, along with hi-tech mobiles, computers, art, crafts and collectibles, paintings, games and even more. Souq.com allows for free returns and accepts Cash On Delivery (COD) payments. Top 3 Places To Go Shopping in Dubai UAE – Expats Guide 14 Most Popular Online Stores in Dubai 2016 United Arab Emirates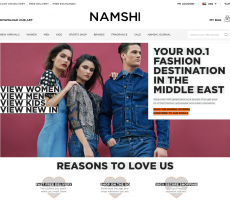 Online Shopping Fashion Dresses, Shoes & More
Namshi is a famous online destination in the Middle East for an extensive range of fashion and footwear brands. Namshi stocks both in-house as well as international brands and provides high service levels to its customers. Free shipping and free returns make this a very user-friendly shopping portal. Namshi is one of Dubai's most popular portals for shoppers who love fashion. Offering a wide...